Before your first call, know what your prospects need and why they need it. Be armed with recommendations based on data about their company, competitors, and industry so that you can be an advisor rather than a seller. Quality talk time increases conversion by 2-3X.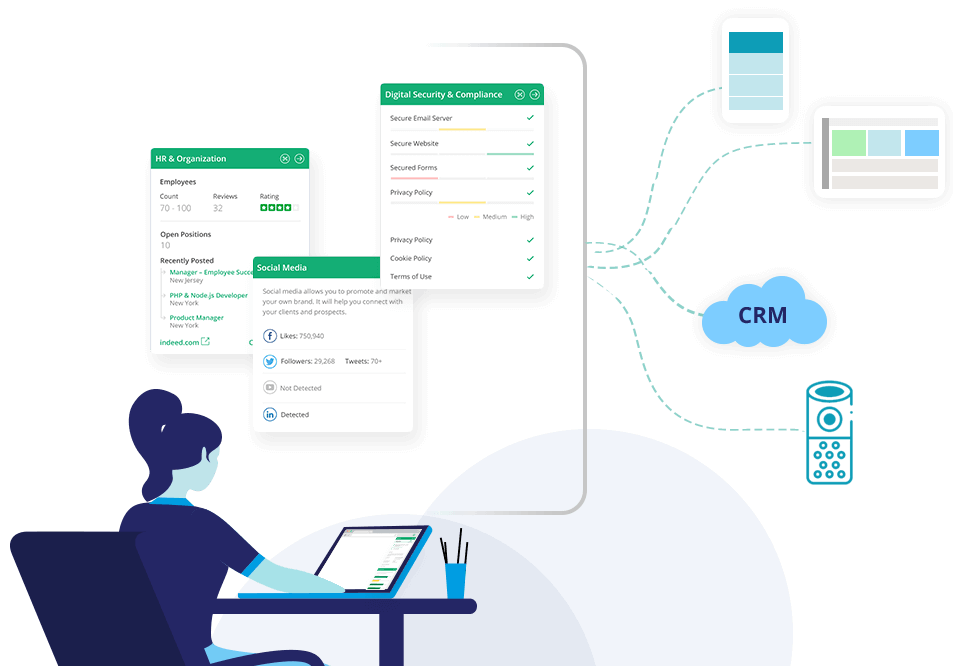 Manual research is time consuming and drains ROI. BuzzBoard provides you with intelligence from hundreds of sources with one single click in the platform of your choice — browser, email, CRM, smart speaker or mobile — in less than 60 seconds. You can even configure BuzzBoard to prioritize the data that is most relevant and actionable for you.
Accelerate sales with BuzzBoard filters
Prioritize calls for your best-fit prospects. Select the criteria that mirrors your best customers and filter out those least likely to close using BuzzBoards behavior and needs signals. It's the only inside sales tool you need!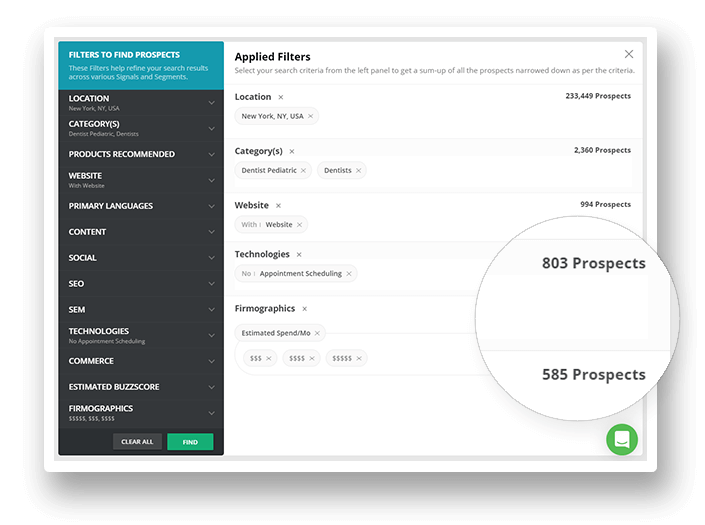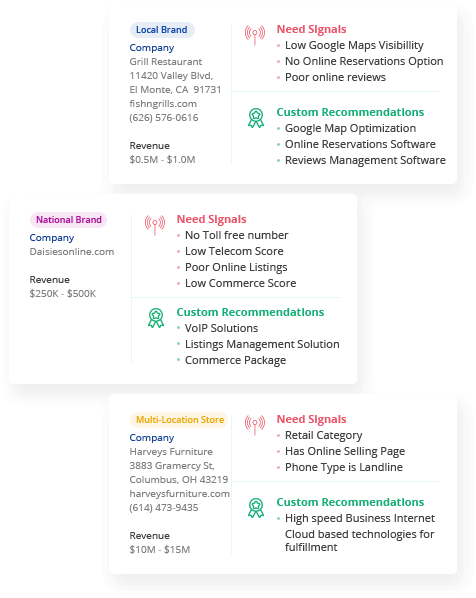 Use recommendations to
craft a pitch that converts
When the phone rings or email pops up, BuzzBoard will instantly surface recommendations on which products to sell, cross-sell or up-sell. Use the recommendations to drive meaningful conversations that resonate with your customer's needs.
Boost engagement
with personalized content
Today's prospects require 7—10 meaningful touches before they warm up. Send unique, personalized content (reports, emails, etc.) along with follow-ups and thank you notes. Prospects are 3X more likely to continue the engagement.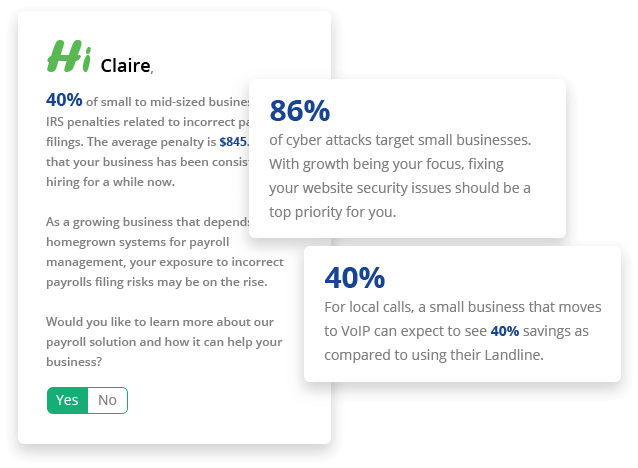 Available on popular sales engagement platforms
Customized content is dynamically available across popular sales engagement platforms including Intercom, Front, Salesloft, and more.
Whether you have 5 reps or 5,000 reps, Insights is designed to scale with your needs. Most of our customers have between 500—2,000 reps and several hundred thousand SMB customers.
Single Sign-on
Integrations
Built-in reporting & analytics
Role-based access and controls
Customizable algorithms
Well-defined SLA & support
Flexible deployment options
Team management capabilities
Secure platform
SMB Experts
Exclusive focus on
SMB intelligence
Deep
6,400 deep data signals
and growing every day
Big
20M+ businesses in
the US alone; 30M+ globally
Robust
AI-sourced and
human audited data
Private
Data is secure
and not shared
Scalable
Enrich millions
of records
How Did We Sell Before BuzzBoard!
The information it provides for us on prospective clients. Before BuzzBoard, you had to check several different sources just to get a fraction of the information you get now with BuzzBoard. Its a time & life saver.

Bruce Cherry
Salem Surround DIGITAL
Allows me to do the work of 5, maybe 10!
The info that I'm able to access on my prospects - and their primary competitors - takes WEEKS off my sales cycle. So easy to learn. So easy to tweak to my preferences. Don't tell any of my competitors!

Greg Thompson
Advance Digital
Craft smarter conversations
Be up and running in minutes