Join Our Tribe of
Digital Explorers
At BuzzBoard, we're not just building the world's leading intelligent conversation engine, we're creating a narrative for the future, a story of innovation and intelligence that empowers companies to create incredible customer experiences.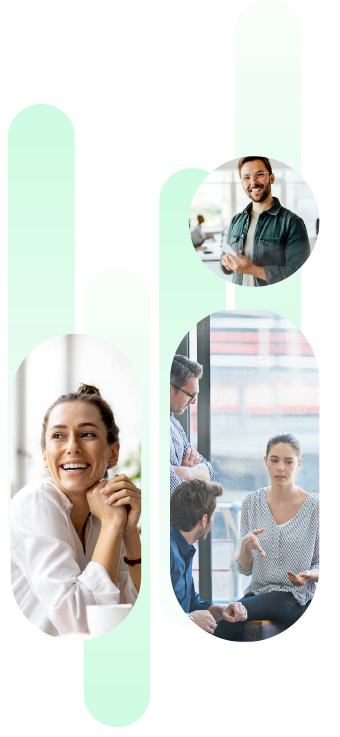 We're a diverse group of thinkers, creators, and builders, fascinated by the intersection of big data, cloud technology, and artificial intelligence. We thrive on the scale, crafting powerful stories from mere pixels. Like a child with a Lego set, we revel in the thrill of building, breaking, and rebuilding, driven by our relentless quest to create something our customers will love.
Our ideas, feelings, and passions are expressed in code and creativity. Our DNA is rooted in design thinking and lean startup principles, allowing us to stay nimble and flexible. We're the doers, the dreamers, the risk-takers who don't fear the big or the bright. We value diversity, because we believe that the best minds, when working together, create the most valuable intelligence – and it's not artificial.
We approach our work much like a Netflix-style recommendation engine – data-driven, continuously questioning, refining, and optimizing. We dream big, because we believe there is no limit to what we can achieve.
Relentlessly turn potential into possibilities.
For us, growth is not just about the numbers, it's about evolving, learning, and challenging ourselves each and every day. It's a mindset.
Experiments unlock mysteries - our competitive advantage.
We embrace each challenge as a mystery waiting to be solved. We're unafraid of taking risks and learning from our mistakes on the quest for innovation.
I own it. Consider it done.
We take complete ownership of our tasks and responsibilities, committed to delivering the best every single time.
Show and tell. Consistency creates trust.
Trust isn't an abstract concept in our organization - it's a tangible promise. We build trust by aligning our actions with our words, being honest about our mistakes, and relentlessly striving to rectify them.
Small is big. Details define destiny.
To us, the seemingly insignificant is powerful. Each tiny step and smallest detail is an essential brick building the pathway to momentous changes. Our belief in 'small is big' extends beyond just our work ethic; it's the cornerstone of our worldview.
Transforming ordinary into extraordinary.
Systems aren't just about processes to us. They're our blueprint for driving scalable excellence, enhancing productivity and quality while crafting outstanding experiences, no matter who's at the helm.
We see you've stuck around, reading about us, our ethos, our values. It means something's clicked, right? If you find yourself nodding along, feeling a connection with our passion for growth, our spirit of experimentation, our sense of ownership, our deep-rooted trust, our obsession with details, and our knack for building scalable systems, then hey, you're the dreamer, the innovator, the doer we want on our team.
At BuzzBoard, we don't just offer jobs. We offer the chance to unlock possibilities with the knowledge we've accumulated. We see potential, not just for us, but for our customers, for businesses around the world. We believe in using our insights, our technology, and our collective creativity to change the way the world interacts with businesses. You won't just be another face in the crowd here – you'll be part of a tight-knit family, the BuzzBoard clan.
If you find yourself drawn to the idea of not just doing, but transforming, it's time we talked. Because we believe in building extraordinary, together. So, what are you waiting for? Your journey with BuzzBoard starts here. Let's begin.
As an end user of the Buzzboard/Salesforce integration, I am thrilled to have this much information about my prospects at my fingertips without having to travel outside my CRM to get to it.

Alyssa Castellano
Advance Digital
How Did We Sell Before BuzzBoard!
The information it provides for us on prospective clients. Before BuzzBoard, you had to check several different sources just to get a fraction of the information you get now with BuzzBoard. Its a time & life saver.

Bruce Cherry
Salem Surround DIGITAL
An invaluable resource in delivering commercial success!
BuzzBoard is invaluable to our sales operation, giving our sales teams the knowledge and confidence to have the right conversations, with the right customers, at the right time - having this insight within Salesforce via the app has not only improved sales efficiency, but has also generated a significant uplift in engagement and performance.
Darren Evans
Reach PLC
We love BuzzBoard!
Our sales team has been utilizing BuzzBoard for around a year now and we couldn't be happier. Not only can you perform effective prospecting, you can provide detailed assistance to so many different companies that need our help.

Drew Gillespie
Houston Chronicle
Allows me to do the work of 5, maybe 10!
The info that I'm able to access on my prospects - and their primary competitors - takes WEEKS off my sales cycle. So easy to learn. So easy to tweak to my preferences. Don't tell any of my competitors!

Greg Thompson
Advance Digital

San Francisco
345 California St.,
Suite 600
San Francisco, CA 94104

New Jersey
1050 Wall Street West,
Suite 630
Lyndhurst, NJ 07071

Hyderabad, India
2nd Floor, Skyview 10, The Skyview,
S.Y. No.83/1, Raidurgam
Hyderabad - 500081, Telangana
Join the Tribe of Conversation Architects