The New Benchmarking Standard

for SMB Account Scoring and Segmentation
Understand the digital maturity of your buyers and meet them with valuable insights using BuzzBoard's D Score.
Account Scoring Based on Growth, Behavior, and Needs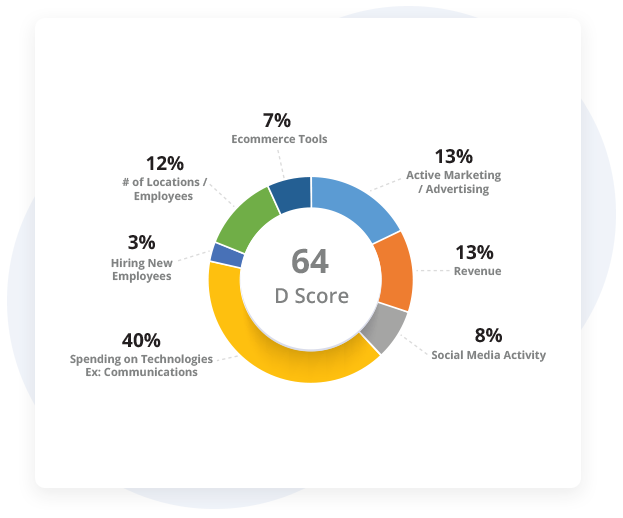 Account Scoring Based on Growth, Behavior, and Needs
For years, BuzzBoard has captured every dimension of SMB's needs and lifecycle, as seen through a digital lens.
We track over 6,400 signals for each SMB across our database of over 30 million businesses. We then apply artificial intelligence, machine learning and human experience to segment, classify and assess SMBs by their needs and behavior.
Now you can easily identify accounts that are
Growth-oriented
Early adopters
In need of your product or service
Building ICP and customer personas
Generating personalized marketing communications
Segmenting and prioritizing for precision targeting
Designing campaigns aligned to needs and behavior
Sales Experience
Generating D Scores for incoming phone calls in real-time
Benchmarking and routing leads to a salesperson experienced with the SMB's digital life stage Generating personalized sales materials
Customer Success Experience
SMB onboarding of the enterprise's products or services
Identifying likely needs for service
Tuning chat bot content to the SMB's digital life stage
Driving service and communications with SMB customers (real-time routing of service requests; generating contextual content)
Generating Customer Health scorecards
Identifying up-sell, cross-sell, and winback opportunities
Personalized communications
Anticipate Buyer Needs with BuzzBoard's D Score
To delight your customers, anticipate their needs by knowing what they already use or how to improve their technology with account intelligence delivered in the D Score.
For customized implementations, we build the D Score algorithm in close collaboration with you and your team.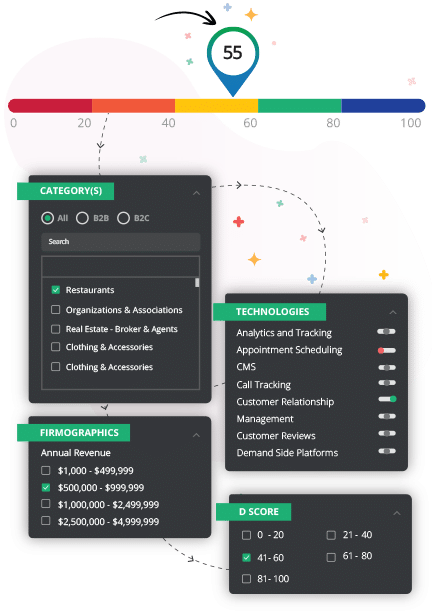 Some examples of various slices for which D Scores can be generated

For SMBs in a given metro or country (e.g. metro Atlanta; USA)

For SMB verticals or micro-verticals (e.g. Dentists-orthodontics)

For SMB firmographic slices (e.g. mid-sized SMBs)

For SMBs that meet a specific test (e.g. those running a specific vendor's product)

For SMBs that compete with a given SMB

Any combination of the above (e.g. multi-location CPAs with over 25 headcount per location, in greater Chicago)
Build Segments for High-Value Personalization with Ease
The D Score helps sales and demand generation teams understand the internal conditions to segment SMBs, instead of external firmographics.
D Score algorithms can be as simple or sophisticated as you want. With firmographic data or totally customized.
Why Trust the BuzzBoard D-Score
Because SMBs are in our DNA, we've developed and commercialized many proprietary capabilities tailored specifically to the SMB market over the past 7 years.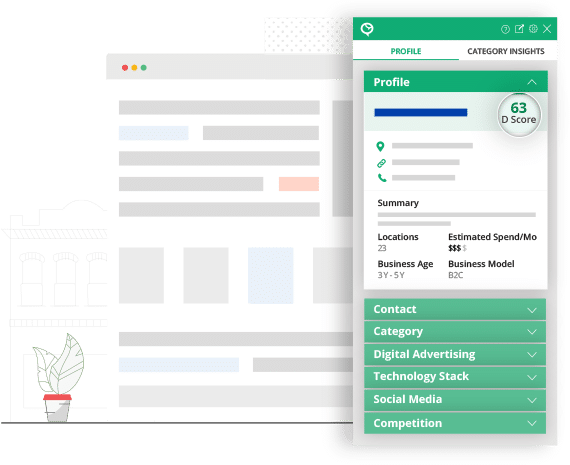 URL Identification
The most powerful technique of identifying URLs for SMBs, even when the SMB data is incomplete, inaccurate or ambiguous.
Pixel Analyzer
An automated bot that analyzes individual pixels in an SMB's digital footprint, to find connections to external platforms, data sets, and service providers.
SMBs and SMB Signals
We maintain records on over 30 million SMBs in the US, and over 10 million worldwide. We populate most of these with over 6,400 separate data elements. We fully refresh our data set every 30 days.
Demand Gen Capabilities
We have deep expertise in guiding enterprise customers to greatly boost their marketing and sales effectiveness with our tools.
Implement the New Standard in SMB Account Scoring
Experience the power of the D Score