The Cloud Adopters in the Home & Trade Services Sector
Growing alongside eCommerce adoption within the largest SMB sector are needs for other cloud technologies and services that enable a robust implementation.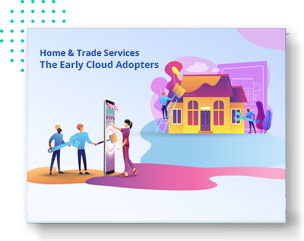 Home & Trade Services (HTS), the largest sector with roughly 1.5M SMBs, has now come of age fuelled for growth largely by technology adoptions that have enabled online and mobile booking of services.
61% of them are either partially or fully eCommerce enabled—yet, many are lacking key technologies. 56% of them are even vulnerable to cybersecurity threats.
How do you identify high-value customers for your TAM and bring them onboard?
The most successful approach starts with enriching your CRM with data to identify your true Ideal Customer Profile—with the right mix of digital maturity, business needs, and spending power—for each of your product or service.
Do these SMBs have a strong local business presence?
Do they have an online operation?
Have they claimed their listings on Google My Business and Yelp, for example?
Are they advertising on HomeAdvisor, Google Ads or Facebook?
Are they invested in maintaining their online reputation?
What is their average annual tech spend?
Our digiographic analysis of the sector will allow you a closer view to understand the construct of the sector and identify clusters that are buying more than the others.
Learn about the many ways you can participate in this growth story.
Explore this report to learn more facts about the HTS SMB market, and how best to size-up the cloud adoption opportunity in the sector.
To unlock the promise of segmentation and personalization for your sales and marketing teams, start with account intelligence from BuzzBoard⁠—the largest database for B2SMB solution providers to launch hyper-personalized marketing campaigns at scale.
Talk to an SMB Data
Specialist Today