Create Your Most Expansive B2SMB TAM and a Winning GTM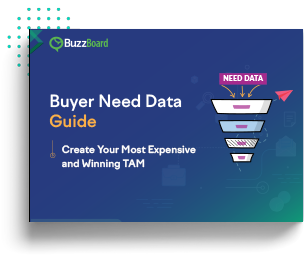 Data and technology makes it possible to estimate prospects' purchase propensity without a direct interaction with them. This allows for vendor go-to-market teams to develop and optimize a market coverage strategy that is better informed, and better yielding, while limiting waste.
Among the many possible ways (with varied degree of precision and success) of estimating purchase propensity, the two most compelling data types to have emerged in support of the go-to-market use case are Buyer Need Data and Purchase Intent Data.
This guide is designed to educate the reader on Buyer Need Data, provide guidance on where it belongs in your data stack, and illustrate how it best serves the various stages of a GTM organization.
The three broad use cases that need data can serve:
Enriching/Cleansing existing data in your CRM
Sourcing new accounts/Expanding your TAM
Scoring and prioritizing accounts in your TAM
In this guide you'll learn:
5 Key Ways Fintech is Reshaping SMBs
New Data Sources & Models–for Product Design & Marketing
Data-Driven Marketing & Prospecting Examples
Take advantage of the vendor evaluation section which highlights considerations to keep in mind when you develop your own need data strategies.
As we saw last year, a majority of respondents are unhappy – 65% indicated that they are dissatisfied with their current data providers.
The 2022 report has a few additional data points over last year, offering even more value for readers. For example, since we have seen a considerable rise in the interest in account scoring capabilities—in part to support Account-Based Marketing programs—we specifically asked about account scoring in this year's survey.
Respondents who lacked APS data were twice as likely to suffer a loss of revenue and a loss of trust.
Download the report and get into the minds of the revenue leaders who have identified the shortcomings of data providers and have told us what they desire. With over three times as many revenue leaders directly participating in the survey this year (over last year) — our findings are more meaningful than ever.
To unlock the promise of segmentation and personalization for your sales and marketing teams, start with account intelligence from BuzzBoard⁠—the largest database for B2SMB solution providers to launch hyper-personalized marketing campaigns at scale.
Talk to an SMB intelligence
specialist or start a free trial today