Qualify, Classify and Score Accounts
with BuzzBoard
A framework for account-first go to market motions
The Retail SMB sector consists of 42 categories representing 621,000 SMBs in the US—10 of these are 'Super Growth' categories that have each grown their eCommerce business >100% during the pandemic.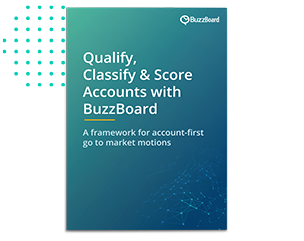 Marketers simply cannot tell one SMB prospect from another. An analysis we conducted at BuzzBoard of over one million SMB records from the CRMs of leading B2SMB marketers revealed that less than 20% (17.5%) of these SMB records included both a valid domain and correctly matching company name, let alone more granular data such as their category and digital readiness.
We get it! As marketers and revenue professionals, you are under huge pressure to keep your sales and marketing operations running at full capacity and speed—even at the discomforting cost of using low-quality and incomplete information on target SMBs. Not anymore, because we have your back.
BuzzBoard's proprietary QCS Model (much like everything we do) stems from our "account-first" philosophy, particularly as it pertains to SMB data and selling into SMBs.
The purpose of the model is simple—to qualify, segment and prioritize accounts (as they enter your CRM or marketing automation system) for go to market activities, such that resources and cost are effectively applied first to the accounts deemed to be most likely to produce revenue in the nearest time. In short, QCS helps you close more deals, and generate more revenue, faster.
The QCS model vastly expands the realm of account scoring and personalization and empowers you to apply ABM at volume as you scale into the vast SMB ecosystem.
If we have your attention, read the technology brief that explains all the super cool stuff we do to make the QCS model a real game changer in how you manage your GTM when selling to SMBs.
To unlock the promise of segmentation and personalization for your sales and marketing teams, start with account intelligence from BuzzBoard⁠—the largest database for B2SMB solution providers to launch hyper-personalized marketing campaigns at scale.
Talk to an SMB Account Intelligence Data
Specialist Today