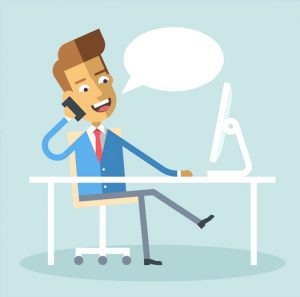 With all the sales calls that you get from solicited and unsolicited agencies, how many of them do you think actually matter to you? If you're like me, you'd probably say 1 in 20. If you think about it, SMBs are no different — one or two people run the business. They receive a lot of calls from marketing and advertising agencies trying to sell them products or services that they're unsure of, or have no knowledge about.
According to the Local Search Association, US SMBs receive about 17 calls a month, but they answer only about 6 calls — that is a 65% rejection rate. What is it that you can do as a sales rep to get your SMB prospect's attention right from the get-go? The answer is simple — be prepared with at least one substantive and meaningful talking point that will help you get beyond the weather talk. But how do you know which point to talk about? Now, this is the part that's not so simple.
Sales reps typically spend about 39% of their time in researching prospects and preparing for discovery calls. That is a lot of time, considering the multitude of tasks that sales reps need to accomplish both internally within their sales organization and externally interacting with their clients and prospects. This is where a sales enablement solution can truly help you.
When you have a state-of-the-art sales enablement solution by your side, you have everything that you need to know about your SMB prospects. You can get deep insights about your prospects' businesses — their target customers, their products and services, website presence, social media presence, and an entire array of data and information that you probably never knew existed. These insights become your treasured resources when making that important call to your SMB prospect.
One major differentiator, such as an SMB not having a search engine-ready or a mobile-friendly website can become a crucial talking point when put in the context of how local consumers interact with SMBs. Right then and there, you've just managed to catch the attention of your SMB prospect with a fact that they never knew could potentially hurt their business. This is the moment when your prospect sits up and listens to what you have to say further. When you add value to the conversation by highlighting how your product or service can help solve their problems, you've got yourself an 'engaged prospect'.
Getting to this point is the biggest challenge that most sales reps face. To get your prospects interested, you need to break through the clutter and this is possible only when you have something relevant to say. Why sift through disparate sources of data to garner that one key talking point, when you can have a comprehensive solution that gives you the winning edge?
If this has you convinced, look no further. BuzzBoard is the right sales enablement solution that helps you cut through the clutter and make those quota-breaking deals.