Like other crises, the COVID crisis carries the seeds of opportunity. This disaster has turned the spotlight on Ecommerce, particularly for Retail SMBs. We believe there is a major and rare opportunity for SMB service providers to rapidly build out ecommerce enablement among these SMBs. This opportunity is on the same scale as other great pivots, including:
The original movement of SMBs to the internet 15 years ago
The explosion of digital advertising and marketing
Ecommerce is already providing a lifeline to many Retail SMBs
1 in 4 small and midsize retailers have launched an ecommerce store as a result of COVID-19.
Sources: Business Model 2020 Survey
"…New shop creation and plan conversion on Shopify's platform contributed to a 97% year-over-year increase in total revenue (Q2 2020 vs. Q2 2019)….Shopify saw a 71% quarter-to-quarter jump in new store creation [in the first part of 2020]."
-Christine Williams, The Motley Fool September 24, 2020
Ecommerce is quickly becoming "do or die" for Retail SMBs
Ecommerce is no longer a "nice to have" for Retail SMBs. It's now a "must have". Ecommerce has become a lifeline to many Retail SMBs during the pandemic. It's now playing a key role for Retail SMBs as its own go-to-market channel, as well as in conjunction with in-store and curbside pick-up.
As the pandemic has reshaped life as we know it, it's also accelerated many trends – the biggest may be eCommerce. The shift toward eCommerce was happening before COVID-19, but according to new data from IBM, the pandemic has accelerated consumers' shift toward ecommerce by five years.
-ROI Revolution Blog, Sept. 14, 2020
The Ecommerce boom for Retail SMBs mirrors the unprecedented ECommerce growth for large retailers.
"The COVID pandemic has shifted e-commerce in 2020". Traditional retail sales have declined but e-commerce has seen a 129% year-over-year growth in U.S. and Canadian orders as of April 21st, with an impressive 146% growth in all online retail orders.
-Forbes August 1, 2020
Retail is one of the Top 5 SMB Sectors, with over 600,000 SMBs…
While Ecommerce has vital applications to many SMB sectors, it's particularly important to the Retail sector, which has 621,000 SMBs.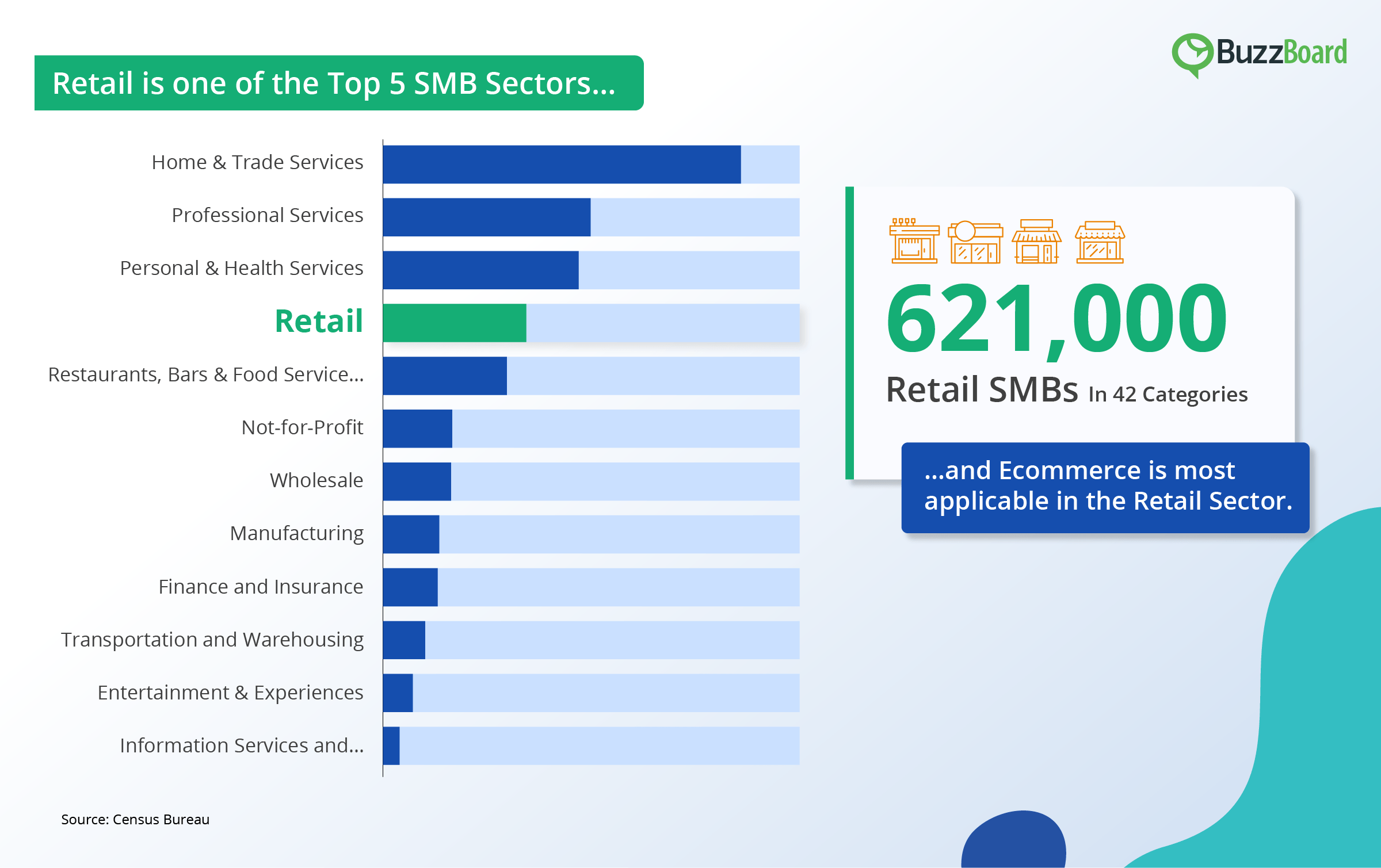 We'll be exploring the nature and scale of Ecommerce opportunities in other large SMB sectors in the coming weeks.
Even Now, Less than One-Third of Retail SMBs are Ecommerce Enabled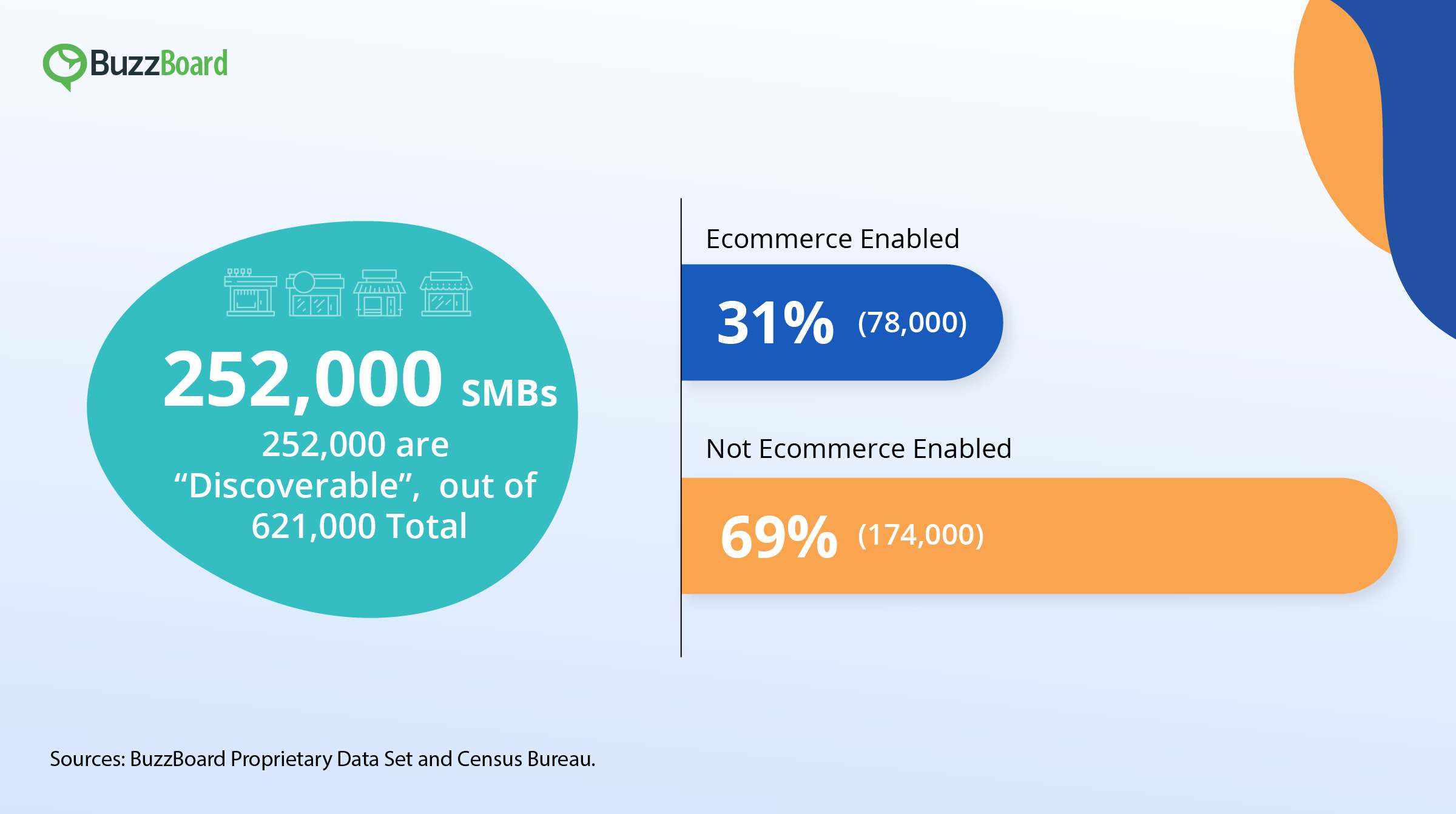 There are many ways to participate in the enablement of Retail SMBs – it's much more than simply providing Ecommerce platforms. In fact, the platform provisioning is the SMALLEST part.
Sources: BuzzBoard Proprietary Data Set and Census Bureau.
The Census Bureau reports a total of 621,000 businesses in the US with under 500 employees (but at least one).
*Of the 621,000 Retail SMBs, 252,000 are "Discoverable" by BuzzBoard's proprietary algorithms. The remainder, 369,000 are not Discoverable at this time, so they're not classified as either eCommerce Enabled or eCommerce Not Enabled. However, some of them are likely to be eCommerce enabled in a way that is "below the radar" of the BuzzBoard algorithms that are based on URLs and links to outside platforms.
Want to learn what this means for your business? Watch our on-demand webinar where we
Discuss the case of Ecommerce in the SMB Retail sector, and
Share the Ecommerce Playbook for the many ways you can participate in this move to Ecommerce
Ecommerce brings proven value to Retail SMBs
Retail SMBs that have already adopted Ecommerce have proven, through their performance, that Ecommerce provides many benefits:
Provides contact with customers and audience (even when access to physical premises is restricted)
Helps fight encroachment by mega stores (which are thriving during the pandemic)
Signals that the SMB is committed to its business and market
Helps retain staff
Improves cash flow
"Despite bricks-and-mortar stores reopening in May, consumers still turned to the web in unrivaled numbers during Q2. And when shoppers did opt to visit a physical location, they [tended] to buy online, [and] pick up in-store or curbside to minimize contact with others"
-Salesforce.com analysis, as quoted in Digital Commerce 360, Aug. 18 2020.
In sum, there are major opportunities in enabling Retail SMBs for Ecommerce. Ecommerce is now a business requirement. There are 621,000 SMBs, of which less than 1/3 are currently Ecommerce enabled*.
*The 1/3 enablement metric is based on BuzzBoard's analysis of the 252,000 Retail SMBs that are "discoverable".