Artificial Intelligence and Its Future in Sales and Marketing
A manifesto for overthrowing the tyranny of templates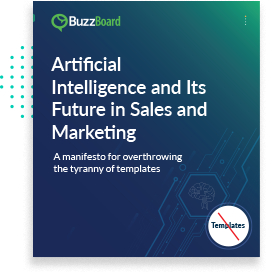 Imagine a sales world where AI-driven hyper-personalization and a "data mindset" empower sales reps to nurture leads and build trust online. We're ushering in meaningful sales conversations and saying farewell to templates.
Our No Templates movement spearheads a paradigm shift in leveraging technology and data for personalized conversations and experiences with customers. This manifesto unveils the power of AI-generated content, highlighting the journey from templates to contextual personalization.
Digital Marketing Agency Owners, Sales Reps, and Sales Leaders of SMB tech solutions, this manifesto is your guide to harnessing deep data and AI-driven personalization. Embrace the future of sales, where tailored experiences based on granular insights redefine success.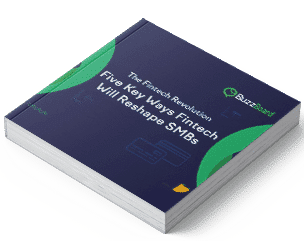 In this guide you'll learn:
5 Key Ways Fintech is Reshaping SMBs
New Data Sources & Models–for Product Design & Marketing
Data-Driven Marketing & Prospecting Examples
Inbound marketing generates three times more leads than outbound marketing while costing 62 percent less!
~ DemandMetric
Even so, only one-third of B2B leaders can successfully generate qualified inbound leads, while others are lacking both in attracting large numbers of relevant website visitors and helping more of them convert.
Thus far, inbound marketing has failed to receive the same 'data-attention' both from data vendors and companies alike that outbound go-to-market cadences have come to expect from their CRM data.
Applying a matured data-lens approach to this high-intent, highest-yielding and cost-effective revenue channel, can uplift inbound marketing's performance manifolds.
Read this guide to explore how rich, digiographic, account intelligence data can positively impact two key KPIs for your inbound marketing—Conversion Rate and Lead Qualification Rate.
Join us

in this No Templates movement!
Together, we commit to the following principles towards making buyer-seller conversations more human:
We will not use templates as a default or a crutch.
We will strive to create original, customized, and personalized conversations, content, products, and services that reflect our own vision, voice, and style.
We will leverage technology and data to understand and anticipate the needs and behaviors of our audience, customers, or users, and to tailor our conversations and content accordingly.
We will encourage and celebrate diversity, creativity, and innovation in all aspects of our work, and we will reject conformity, mediocrity, and complacency.
We will challenge the status quo and push the boundaries of what is possible, always with the goal of creating more meaningful and impactful experiences for our audience, customers, or users.
Increase Conversion Rates by Personalizing Your Visitor Experience
Use rich digiographic account signals to pull audiences in with relevant, contextual experiences—driving more engagement!
On-page Personalization—Dip into digiographics to find account data to personalize your website with relevant context for your visitor and their company.
Web Chat/Conversational Landing Pages—Use firmo-, techno-, and digiographics-rich data, synced into your CRM, to engage your prospects with more meaningful chat conversations.
Qualify and Score your Inbound Accounts
Prioritize for better results, faster—build trust between marketing and sales.
Only a fraction of your B2B inbound leads truly deserve face-time with your sales team. Enrich your inbounds with account level digiographic data signals and pre-qualify them based on buyer need and purchase propensity, before moving them downstream.
As we saw last year, a majority of respondents are unhappy – 65% indicated that they are dissatisfied with their current data providers.
The 2022 report has a few additional data points over last year, offering even more value for readers. For example, since we have seen a considerable rise in the interest in account scoring capabilities—in part to support Account-Based Marketing programs—we specifically asked about account scoring in this year's survey.
Respondents who lacked APS data were twice as likely to suffer a loss of revenue and a loss of trust.
Download the report and get into the minds of the revenue leaders who have identified the shortcomings of data providers and have told us what they desire. With over three times as many revenue leaders directly participating in the survey this year (over last year) — our findings are more meaningful than ever.
To unlock the promise of segmentation and personalization for your sales and marketing teams, start with account intelligence from BuzzBoard⁠—the largest database for B2SMB solution providers to launch hyper-personalized marketing campaigns at scale.
Talk to an SMB intelligence
specialist or start a free trial today