Weed Out Your Weakest Leads
Stop wasting valuable resources on the wrong accounts! Regardless of your organization's size, learn how you can set up a robust account scoring model that will help your business expand by narrowing your revenue team's focus to the accounts that will generate the greatest ROI.

Create More Buzz with a High-Qualified Target Account List
Creating a list of qualified accounts is the most important step to any successful
account-based marketing campaign.
With BuzzBoard, you will be able to

Generate lists of best-fit SMBs that match your ideal customer profile.
Access data on over 30 million SMBs and filter by key purchase triggers (e.g. ad spend, technology usage, and revenue) to find SMBs that need your solutions.
Easily download or bulk import leads to your CRM of choice.

Enrich your CRM with new and up-to-date intelligence about your SMB customers
Identify customers that are a fit for cross-sell and upsell opportunities.
Identify at-risk customers and reach out before it's too late.
More Technology, More Data, and More Agility
Just like you, we pride ourselves in being the SMB experts too. Our strength lies in sourcing and analyzing data to profile SMBs for various GTM organizations for digital and cloud solution offerings, including fintech.

Join us, along with Dr. Stephen Krauss (author, TedX speaker, and professor of marketing), as we discuss the role of data in helping fintech companies reshape the SMB market.

Be it defining your ICP, building and segmenting your TAM, or qualifying and scoring your prospects, the right data set can set up your GTM teams for success and revenue acceleration.

In the webinar, we will demonstrate examples of how we have helped some of our SMB-focused fintech customers use data to size up their SMB opportunities and prospect more effectively.
3 key takeaways from the webinar:
Fintech solutions SMBs are consuming
New data sources & models–Building your ICP and TAM
AI models to qualify and score your prospects
Problematic leads are as bad as weeds—they'll use up your resources and diminish your ROI. Whether you're investing in a garden or growing your org, maximizing the potential of your seeds is critical for growth. Account scoring can help you weed out your weakest leads and push your most viable leads to where they can receive the most care. Switch to account-first demand generation.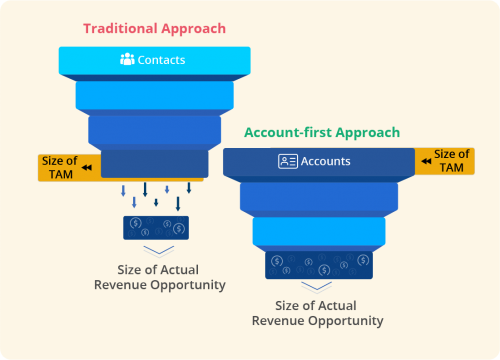 Account scoring is the process of sorting all the potential customers in rank order from the most to the least valuable. Regardless of your org's size, account scoring will help your business expand by narrowing your rev team's focus onto the accounts that will generate the greatest ROI for your org. Stop wasting valuable resources on the wrong accounts!
This session is designed for any leader in the sales world, but enterprises that sell to small and mid-sized businesses will especially love this content! Join BuzzBoard to learn how to extend that scoring model to include any number of some 6,400+ signals per account that draw on the target company's digital footprint.
In this session, we'll be diving into the following topics:
How to build a fit score formula for your SMB accounts (score and prioritize)
Why Account-first is more productive than contact-first (new TAM/old TAM)
How to evaluate your database of accounts

Dr. Stephen Kraus writes and speaks widely about market research, social trends, demographic changes, and human behavior. He is author of three books, and delivered a TEDx talk on the impact of income concentration on The American Dream. He teaches marketing at the University of San Francisco, and holds a Ph.D. in social psychology from Harvard University.
David Howard is the VP of marketing at BuzzBoard and has over 10 years of experience in B2B SaaS marketing and demand generation. His past experiences include companies like Five9, which built its core telemarketing call center software business in the SMB space and enjoyed an IPO in 2014, and Salesforce. An alumni of UC Berkeley, David joined BuzzBoard from Platform9. He is also a hobbyist photographer who enjoys shooting the natural outdoors, particularly in Marin County, California.
Ready to Identify your Total Addressable Market?