BuzzBoard's Proprietary SMB Data Meets Generative AI
BuzzBoard is the leader in SMB account intelligence. We gather and curate an ocean of firmographic, technographic, and digiographic data about small to mid-sized businesses, at scale, with super-human proficiency. We are now pairing our SMB data with generative AI to turn you into a sales rockstar!
Get ready to deliver hyper-personalized sales prospecting and sales closing content to crush your quotas. Be among the first to discover hyper-personalized sales conversations that combine the creative possibilities of generative AI with the world's most comprehensive SMB account data.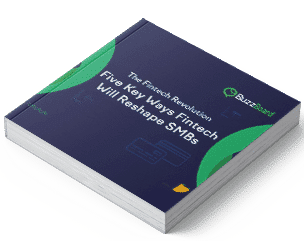 In this guide you'll learn:
5 Key Ways Fintech is Reshaping SMBs
New Data Sources & Models–for Product Design & Marketing
Data-Driven Marketing & Prospecting Examples
BuzzBoard Fuels Your Demand Generation Performance
with B2SMB account intelligence data and insights to better segment, score and prioritize accounts that matter.
Prioritize With Account Score
Leading B2SMB Solution Providers Use BuzzBoard to
Supercharge Their Customer Interactions
As we saw last year, a majority of respondents are unhappy – 65% indicated that they are dissatisfied with their current data providers.
The 2022 report has a few additional data points over last year, offering even more value for readers. For example, since we have seen a considerable rise in the interest in account scoring capabilities—in part to support Account-Based Marketing programs—we specifically asked about account scoring in this year's survey.
Respondents who lacked APS data were twice as likely to suffer a loss of revenue and a loss of trust.
Download the report and get into the minds of the revenue leaders who have identified the shortcomings of data providers and have told us what they desire. With over three times as many revenue leaders directly participating in the survey this year (over last year) — our findings are more meaningful than ever.

Key tool for Sales peoples success Having had Buzzboard as a key piece of kit for our sales people for a few years now, I have long been an advocate of the benefits of incorporating Buzzboard into the daily lives of our commercial teams. The further developments have only strengthened the value of Buzzboard and has helped the sales people deliver quality pitches, save time with the app and really see the benefits of the tool to helping them gain appointments, prospect, close and increase the AOV.
Natalie Toulson Reach PLC
Key tool for Sales peoples success

Having had Buzzboard as a key piece of kit for our sales people for a few years now, I have long been an advocate of the benefits of incorporating Buzzboard into the daily lives of our commercial teams. The further developments have only strengthened the value of Buzzboard and has helped the sales people deliver quality pitches, save time with the app and really see the benefits of the tool to helping them gain appointments, prospect, close and increase the AOV.

Natalie Toulson,
Reach PLC

Love this tool!

Our company has been using BuzzBoard for a while now, but with the way this Salesforce app works, it's even easier to get more information about the online visibility needs of a prospect and manage that via the Lead record in Salesforce. Not having to leave the SF environment is a huge plus to sellers, and the integration is solid.

Sylvie Dale,
Advance Local

If you need an efficient way to prospect, give BuzzBoard a look.

You can try to buy cold leads using paid advertising OR you can go into a conversation with knowledge that will help warm a stranger up to your product or service in a matter of minutes using the insights BuzzBoard provides. It would cost you a ton of time and money to go about it otherwise.

Heather Holloway, Founder
Holloway Media Services

I love the data in this software!

It is detailed and shows pain points where improvement is needed. It helps the client to see where solutions can be used. The customer service team is AMAZING. They have gone so far as to send me leads during this trying time.

Erica Garza, Owner
R2 Media Group

BuzzBoard has become an essential part of our prospecting.

We use it as a one stop shop for auditing that allows us to take a deeper dive into our potential clients and size them up to their competitors. My favorite if not the best feature is the fact that you can see competitor ads right from within the platform. It's a really wonderful tool that is fairly priced for agencies and I recommend it to any growing digital marketing agency!

Jay Miller, Marketing Strategist
KyberDigital

I can't say enough about the team and the BuzzBoard platform.

BuzzBoard provides all of the pertinent information about prospective clients and their competition within a few clicks, as well as some suggestions where we can start to bring them value. We have dramatically reduced time on researching prospective clients while eliminating the need for multiple software platforms.

Mike Tau, President
Tau And Associates LLC

We love Buzzboard

Our sales team has been utilizing Buzzboard for around a year now and we couldn't be happier. Not only can you perform effective prospecting, you can provide detailed assistance to so many different companies that need our help. The customer service is amazing as well.

Drew Gillespie,
Houston Chronicle

We're excited to have found BuzzBoard

BuzzBoard has helped our sales team to be more strategic with our prospecting efforts and to have deeper data driven conversations with new and existing clients. The tool puts a wealth of information at our fingertips with a user friendly interface backed by top notch training and support. We're excited to have found BuzzBoard and continue to find new ways to leverage the information it provides us.

Matt Bell, Director of Sales
Cumulus Radio
If you need an efficient way to prospect, give BuzzBoard a look.

You can try to buy cold leads using paid advertising OR you can go into a conversation with knowledge that will help warm a stranger up to your product or service in a matter of minutes using the insights BuzzBoard provides. It would cost you a ton of time and money to go about it otherwise.

Heather Holloway, Founder
Holloway Media Services

I love the data in this software!

It is detailed and shows pain points where improvement is needed. It helps the client to see where solutions can be used. The customer service team is AMAZING. They have gone so far as to send me leads during this trying time.

Erica Garza, Owner
R2 Media Group

BuzzBoard has become an essential part of our prospecting.

We use it as a one stop shop for auditing that allows us to take a deeper dive into our potential clients and size them up to their competitors. My favorite if not the best feature is the fact that you can see competitor ads right from within the platform. It's a really wonderful tool that is fairly priced for agencies and I recommend it to any growing digital marketing agency!

Jay Miller, Marketing Strategist
KyberDigital

I can't say enough about the team and the BuzzBoard platform.

BuzzBoard provides all of the pertinent information about prospective clients and their competition within a few clicks, as well as some suggestions where we can start to bring them value. We have dramatically reduced time on researching prospective clients while eliminating the need for multiple software platforms.

Mike Tau, President
Tau And Associates LLC

Key tool for Sales peoples success

Having had Buzzboard as a key piece of kit for our sales people for a few years now, I have long been an advocate of the benefits of incorporating Buzzboard into the daily lives of our commercial teams. The further developments have only strengthened the value of Buzzboard and has helped the sales people deliver quality pitches, save time with the app and really see the benefits of the tool to helping them gain appointments, prospect, close and increase the AOV.

Natalie Toulson,
Reach PLC

Love this tool!

Our company has been using BuzzBoard for a while now, but with the way this Salesforce app works, it's even easier to get more information about the online visibility needs of a prospect and manage that via the Lead record in Salesforce. Not having to leave the SF environment is a huge plus to sellers, and the integration is solid.

Sylvie Dale,
Advance Local

We love Buzzboard

Our sales team has been utilizing Buzzboard for around a year now and we couldn't be happier. Not only can you perform effective prospecting, you can provide detailed assistance to so many different companies that need our help. The customer service is amazing as well.

Drew Gillespie,
Houston Chronicle

We're excited to have found BuzzBoard

BuzzBoard has helped our sales team to be more strategic with our prospecting efforts and to have deeper data driven conversations with new and existing clients. The tool puts a wealth of information at our fingertips with a user friendly interface backed by top notch training and support. We're excited to have found BuzzBoard and continue to find new ways to leverage the information it provides us.

Matt Bell, Director of Sales
Cumulus Radio