Unlock The SMB Opportunity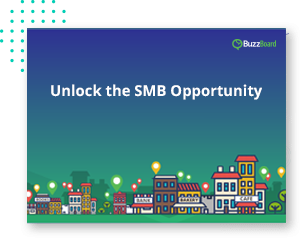 Everyone talks about selling to the Enterprise, but what about selling to small to medium businesses (SMBs)? Do you know what the SMB landscape looks like? What even qualifies as an SMB? How much of the SMB space actually fits your ICP? How do you measure the success of an SMB?
30 million SMBs in the U.S. represent 99.7% of all businesses
21.4 million are discoverable
10.4 million have a website and are digitally contactable
To identify high-value SMB customers, you need to know their NEED for your product, and their willingness to SPEND on it.
Explore this report to learn more facts about the SMB market, and answers to your questions.
Learn how you can unlock the SMB opportunity by using firmographic, technographic, and digiographic data.
To unlock the promise of segmentation and personalization for your sales and marketing teams, start with account intelligence from BuzzBoard⁠—the largest database for B2SMB solution providers to launch hyper-personalized marketing campaigns at scale.
Talk to an SMB intelligence
specialist or start a free trial today